Upcoming Colloquia
UCSB Conversation Roundtables on Online Reading
Conference Launching
The Transliteracies Project

How are people today "reading" in digital, networked environments? For example, what is the relation between reading and browsing, or searching? Or between reading and multimedia? Can innovations in technologies or interfaces increase the productivity, variety, and pleasure of these new kinds of reading? How can the historical diversity of human reading practices help us gauge the robustness of the new digital practices; and, inversely, how can contemporary practices provide new ways to understand the technical, social, and cultural dimensions of historical reading? The Transliteracies 2005 conference assembles theorists and practitioners from the humanities, arts, social sciences, computer science, and industry to talk about the fate of reading in the new media age.

The gathering will feature the following: Three keynote presentations to mark out the diversity of disciplines and approaches needed to address the problem of online reading: Anne Balsamo, Walter Bender, Adrian Johns. Three moderated, plenary conversation roundtables: Reading, Past and Present; Reading and Media;. Reading as a Social Practice. A presentation session on "The Art of Online Reading."

The conference launches the Transliteracies research project, which brings together humanities, social-science, and computer-science researchers to collaborate on technology development related to the future of textual experience. The project is an attempt to mesh the humanities--whose core identity is invested in textual experience in a way that most other disciplines are not--with the evolving environment of information today.

Friday, June 17, 8:30-6:00
Saturday, June 18, 9:00-5:00
McCune Room, HSSB 6020, UCSB
Full Schedule Here
---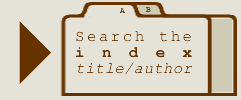 ---
Selected Past Colloquia
Geert Lovink
Independent Media Theorist and Net Critic, "Dark Fiber: Tracking Critical Internet Culture"

Richard Grusin
Professor of Communications, Georgia Tech, "The Web and Cultural Difference"

William Paulson
Professor of Romance Studies, U. Michigan, Discussion of Chapter V, "Literary Culture and the Worlds of Science" from his recently completed book, Literary Culture and the Life of the World

J. Hillis Miller
Professor of English and Comparative Literature, UC/Irvine, Discussion of his Black Holes

Alan Liu
Professor of English, UCSB, "Should We Historicize the Culture of Information?"

M. D. Coverley (Marjorie C. Luesebrink)
Hypertext Fiction Artist & Professor of English, Irvine Valley C., "The Crimson Orb: Technology and Women on the WWW"

Barbara Cohen
Director, UC Irvine HumaniTech: Computer Resources for Faculty Research and Teaching, "A Chat with Barbara Cohen"

Matthew G. Kirschenbaum
Professor of English, Univ. of Kentucky, "New Media in the Curriculum and the Job Market"

Ann Bermingham
Professor of Art History, UCSB, "Narrative, Memory, Archive: Some Thoughts on Louisa Conolly's Print Room at Castletown, Co. Kildare"

Rita Raley
Professor of English, University of Minnesota [later a member of the UCSB English Dept.], "Taxonomies of Hypertext Fiction"

Michael Heim
Professor, Art Center College of Design, Pasadena, CA, "The Classic Book and Avatar Chat": A Research Overview with Hands-On Involvement"

Lev Manovich
Professor, Visual Arts Dept., UC San Diego, Discussion with Lev Manovich about New Media