Welcome
On April 18-19, 2008, the Transcriptions Center at the University of California, Santa Barbara, will host a symposium on the writings of media theorist and thinker Jean Baudrillard.
Please join us from 4:00PM to 5:45PM on Friday, April 18th, and from 9:00AM to 5:30PM on Saturday, April 19th. We will be hosting the symposium at Centennial House. You can find directions and a map here.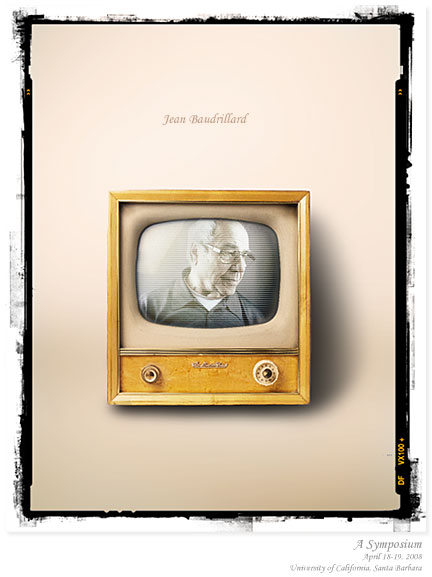 Along with Marshall McLuhan, Baudrillard was perhaps the most influential thinker of his time in terms of recognizing the uncomfortably strong influence modern media in the postindustrial age has over society and culture. With an intellectual background ranging from sociology to semiotics, he wrote numerous theses advancing an argument against the drive towards mass consumerism.
Please join us in April for a two-day symposium discussing Baudrillard's impact on a wide spectrum of disciplines.
Registration: $15
Please contact David Roh at roh@umail.ucsb.edu to RSVP.